Technologies and processes
Hand Lay Up (HLU)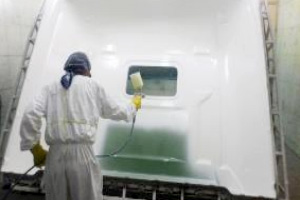 Also known as Manual Lamination, in this thermoset production process, the first step is to apply the release agent, then spray the gel coat evenly on the mold. After curing, the fiber blankets and the resin are placed manually. On finishing the lamination, it is necessary to wait for the parts to be completely cured, subsequently removing it from the mold.
Widely used in series production with smaller volumes, as well as in prototype developments, Hand Lay Up (HLU) is able to produce items of complex geometry and high quality level.
Sulplast's Hand Lay Up (HLU) process guarantees structured and resistant technical parts, capable of withstanding adverse weather conditions and high levels of mechanical stress.