Technologies and processes
Resin Transfer Molding Skin (RTM Skin)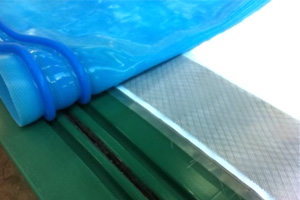 Technology recently incorporated by Sulplast, the RTM Skin is a polymeric forming process similar to RTM Light, but which uses a silicone film as the mold closure system, instead of the rigid counter mold, allowing a lower tooling cost.
Capable of producing parts with large dimensions, complex geometry and negative extraction angles, RTM Skin offers several design possibilities, together with excellent mechanical properties.
The first step of the RTM Skin is to apply the gel coat on the surface of the mold. In the next step, the fiberglass reinforcements are placed and the silicone membrane is positioned. This film is then vacuum sealed and the resin is controllably injected through its channel, using the RTM machines. After the curing procedure is finished, the silicone skin is removed, together with the injection and vacuum channels, so that the part can be unmolded.

Sulplast manufactures parts in RTM Skin that attends to the most demanding requirements of the world's leading automakers of trucks, buses, agro vehicles, construction machinery, light vehicles and many other segments.
Sulplast's investment in training and structure for the development of the RTM Skin reflects the guidelines for preserving the environment, innovation and continuous improvement that characterize us as a supplier of plastic solutions in fiberglass and thermoplastic. More sustainable and productive than many other techniques for molding thermosets, the RTM Skin is a modern and versatile process that guarantees extremely resistant technical parts, with low weight and a refined finishing.